Anavex Life Sciences Corp., a clinical stage biopharmaceutical company, engages in the development of drug candidates for the treatment of central nervous system diseases. The company's lead drug candidate is ANAVEX 2-73, which has completed Phase 2a clinical trial for Alzheimer's disease; and preclinical clinical trials to treat Parkinson's disease, Rett syndrome, epilepsy, infantile spasms, Fragile X syndrome, Angelman syndrome, multiple sclerosis, and tuberous sclerosis. It is also developing ANAVEX 3-71 to treat Alzheimer's disease; ANAVEX 1-41, a sigma-1 agonist; ANAVEX 1066, a mixed sigma-1/sigma-2 ligand for the potential treatment of neuropathic and visceral pain; and ANAVEX 1037 to treat prostate and pancreatic cancer. The company was founded in 2006 and is based in New York, New York.
Anavex utilizes precision genetic medicine to treat severe and devastating neurological disorders and
is focusing on rare diseases with no available therapy (Rett syndrome) and high risk CNS patient populations (Parkinson's Disease, Alzheimer's Disease)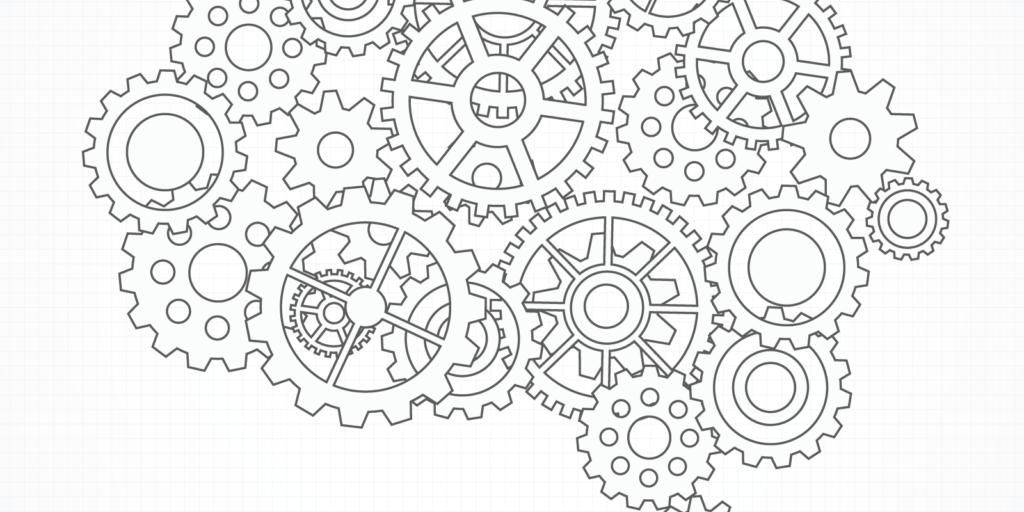 Anavex Life Sciences Reaches 50% Enrollment Threshold in ANAVEX®2-73 Parkinson's Disease Dementia (PDD) Phase 2 Study Ahead of Schedule
NEW YORK – March 11, 2019 – Anavex Life Sciences Corp. ("Anavex" or the "Company") (Nasdaq: AVXL), a clinical-stage biopharmaceutical company developing differentiated therapeutics for the treatment of neurodegenerative and neurodevelopmental diseases including Alzheimer's disease (AD), Parkinson's disease, Rett syndrome and other central nervous system (CNS) diseases, today announced it has reached the 50% patient enrollment threshold of its multicenter, Phase 2 clinical study evaluating ANAVEX®2-73 in Parkinson's Disease Dementia (PDD) ahead of schedule.
The study is expected to enroll approximately 120 patients, randomized 1:1:1 to two different ANAVEX®2-73 doses or placebo. The ANAVEX®2-73 Phase 2 study design incorporates genomic precision medicine biomarkers identified in the ANAVEX®2-73 Phase 2a AD study. Primary and secondary endpoints will assess safety and both cognition and Parkinsonian motor symptoms and sleep function during the 14-week study.[1]ANAVEX®2-73 Phase 2a Alzheimer's disease study previously demonstrated dose dependent improvement in exploratory endpoint of cognition (MMSE) within 5 weeks.
Christopher U Missling, PhD, President and Chief Executive Officer of Anavex, said: "We are encouraged by the rate of patient enrollment in this Phase 2 study and the potential for ANAVEX®2-73 to become a therapy for this unmet need given that up to 80% of Parkinson's patients develop dementia."
About Parkinson's Disease Dementia (PDD)
Parkinson's disease is a fairly common neurological disorder in older adults, estimated to affect nearly 2 percent of those older than age 65. The Parkinson's Foundation estimates that 1 million Americans have Parkinson's disease. It is estimated that up to 80 percent of those with Parkinson's disease eventually experience Parkinson's disease dementia. The brain changes caused by Parkinson's disease begin in a region that plays a key role in movement. As Parkinson's brain changes gradually spread, they often begin to affect mental functions, including memory and the ability to pay attention, make sound judgments and plan the steps needed to complete a task.[2]
About ANAVEX®2-73
ANAVEX®2-73 activates the Sigma-1 receptor (S1R) protein, which serves as a molecular chaperone and functional modulator involved in restoring homeostasis. In a Phase 2a Alzheimer's disease (AD) study, ANAVEX®2-73 has shown dose dependent improvement in exploratory endpoints of cognition (MMSE) and activities of daily living (ADCS-ADL). Full genomic analysis of ANAVEX®2-73 Phase 2a AD patients was performed. The ANAVEX®2-73 Phase 2 PDD study design includes genomic biomarkers identified in the ANAVEX®2-73 Phase 2a AD study. Studies of ANAVEX®2-73 in a disease modifying model of Parkinson's disease indicates that ANAVEX®2-73 is well tolerated, induces significant motor recovery (p<0.05), induces neurohistological restoration (p<0.05) and reduces microglial activation (p<0.05), a potential biomarker of Parkinson's disease. Behavioral patterns were completely normal, meaning no signs of either dystonia or stereotypic behaviors were detected in animals receiving the treatment. These studies were funded by The Michael J. Fox Foundation for Parkinson's Research.

PRODUCT PIPELINE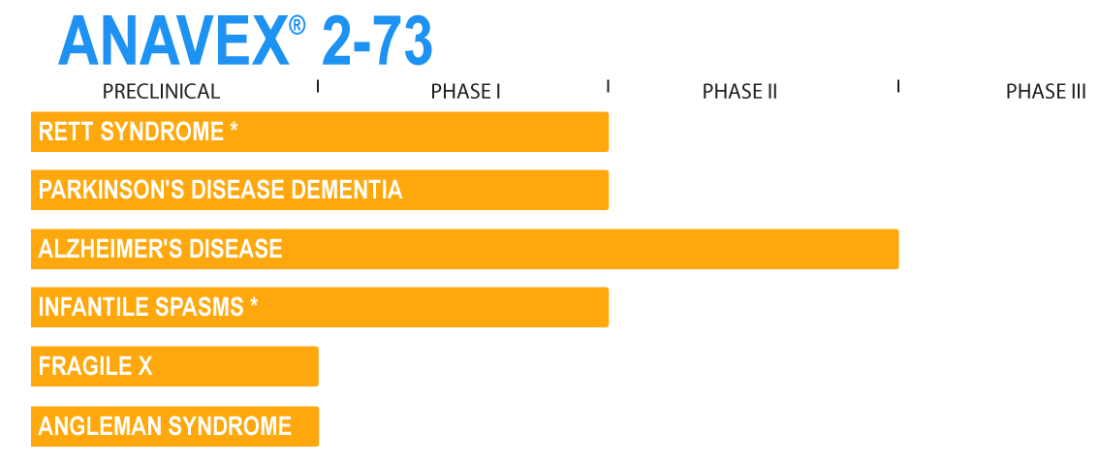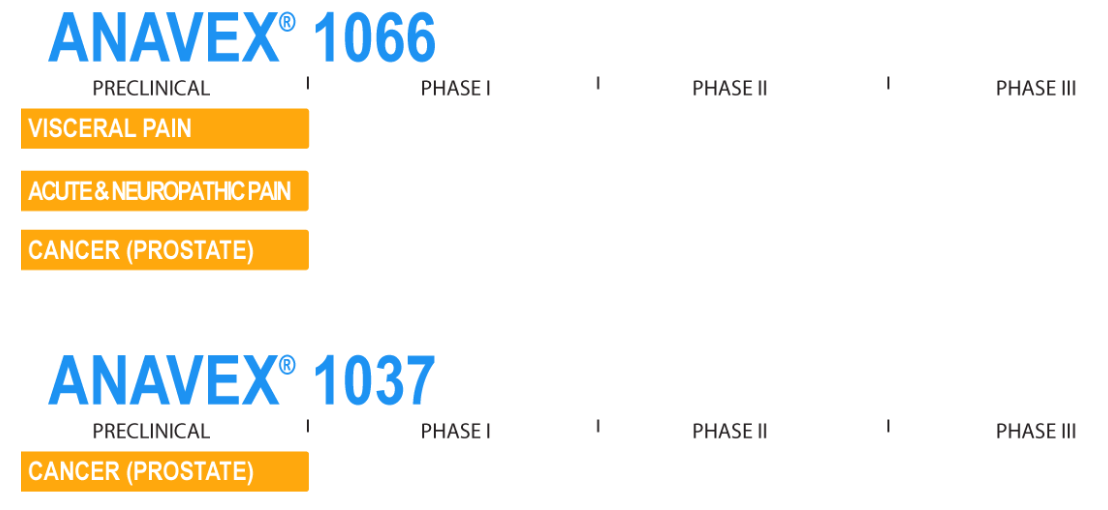 AVXL DISCLAIMER
This newsletter is a paid advertisement, not a recommendation nor an offer to buy or sell securities. This newsletter is owned, operated and edited by MEC Systems LLC is a wholly owned subsidiary of milestonecgp.com, milestonecapitolgrowthportfolio.com 
Any wording found in this e-mail, disclaimer or company profile referencing to "I" or "we" or "our" or "MEC Systems LLC" refers to MEC Systems LLC.  Our business model is to be financially compensated to market and promote small public companies.  By reading our newsletter and our website you agree to the terms of our disclaimer, which are subject to change at any time. We are not registered or licensed in any jurisdiction whatsoever to provide investing advice or anything of an advisory or consultancy nature, and are therefore are unqualified to give investment recommendations. Always do your own research and consult with a licensed investment professional before investing. This communication is never to be used as the basis of making investment decisions, and is for entertainment purposes only. At most, this communication should serve only as a starting point to do your own research and consult with a licensed professional regarding the companies profiled and discussed. Conduct your own research. Companies with low price per share are speculative and carry a high degree of risk, so only invest what you can afford to lose. By using our service you agree not to hold our site, its editor's, owners, or staff liable for any damages, financial or otherwise, that may occur due to any action you may take based on the information contained within our newsletters or on our website.
We do not advise any reader take any specific action. Losses can be larger than expected if the company experiences any problems with liquidity or wide spreads. Our website and newsletter are for entertainment purposes only. Never invest purely based on our alerts. Gains mentioned in our newsletter and on our website may be based on end-of-day or intraday data. This publication and their owners and affiliates may hold positions in the securities mentioned in our profiles, which we may sell at any time without notice to our subscribers, which may have a negative impact on share prices. If we own any shares we will list the information relevant to the stock and number of shares here. We have been compensated $10,000k cash via bank wire by AVXL,  to conduct Social Media Program and news distribution for AVXL from 3/13/2019 to 4/13/2019 .  MEC Systems LLC business model is to receive financial compensation to advertise for public companies.  This compensation is a major conflict of interest in our ability to be unbiased regarding. Therefore, this communication should be viewed as a commercial advertisement only.  We have not investigated the background of the hiring third party or parties. The third party, profiled company, or their affiliates may wish to liquidate shares of the profiled company at or near the time you receive this communication, which has the potential to hurt share prices.  Any non-compensated alerts are purely for the purpose of expanding our database for the benefit of our future financially compensated investor relations efforts. Frequently companies profiled in our alerts may experience a large increase in volume and share price during the course of investor relations marketing, which may end as soon as the investor relations marketing ceases. The investor relations marketing may be as brief as one day, after which a large decrease in volume and share price is likely to occur. Our emails may contain forward looking statements, which are not guaranteed to materialize due to a variety of factors.
We do not guarantee the timeliness, accuracy, or completeness of the information on our site or in our newsletters. The information in our email newsletters and on our website is believed to be accurate and correct, but has not been independently verified and is not guaranteed to be correct. The information is collected from public sources, such as the profiled company's website and press releases, but is not researched or verified in any way whatsoever to ensure the publicly available information is correct. Furthermore, MEC Systems LLC often employs independent contractor writers who may make errors when researching information and preparing these communications regarding profiled companies. Independent writers' works are double-checked and verified before publication, but it is certainly possible for errors or omissions to take place during editing of independent contractor writer's communications regarding the profiled company(s). You should assume all information in all of our communications is incorrect until you personally verify the information, and again are encouraged to never invest based on the information contained in our written communications. The information in our disclaimers is subject to change at any time without notice. See full disclaimer at http://milestonecapitalgrowthportfolio.com/terms-conditions-of-use/.